kakuji kincyaku LS25 / キリハナ角字巾着革紐25 / BLACK
定価

¥28,600
特価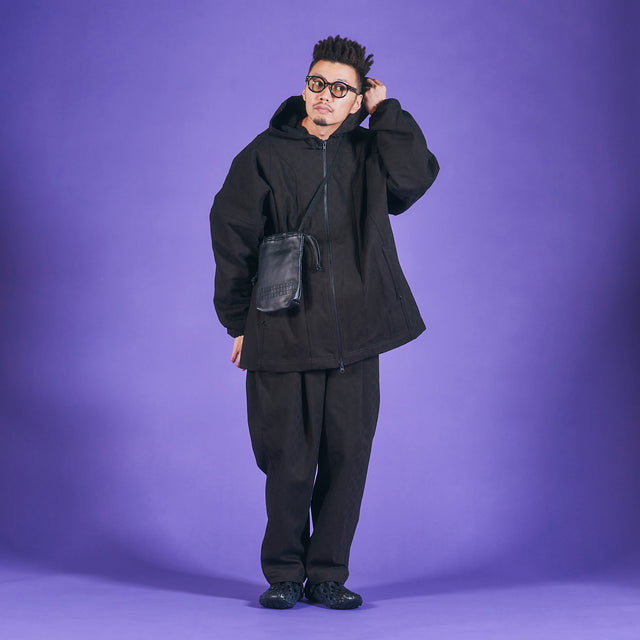 兵庫県姫路市にて生産されたyorozuオリジナルレザーを使用しております。特徴としては軽量であり、柔らかく、肌触りが良いことです。程よく経年変化をしつつ革の耐久性を兼ね備えた混合鞣し仕上げです。気兼ねなくご使用いただけます。
裏地は五三桐紋を全面にあしらった二越ちりめん仕様です。本体サイドには直接中にアクセスできるよう、ファスナーが配されております。内装にはショルダーが付属されており、2wayにてご使用いただけます。背面にはスマホ等が収納可能なオープンポケットがございます。
巾着開閉部分が革紐仕様です。
幅13.5cm 高さ21.5cm 奥行3cm
日本製
It is made of yorozu's original leather produced in Himeji City, Hyogo Prefecture. It is lightweight, soft and pleasant to the touch. It is a mixed-tanning finish which gives the leather durability while allowing it to age moderately. It can be used without hesitation.

The lining is made of Nigoshi-chirimen with Gosan-kiri pattern on the whole surface. There is a zipper on the side of the main body for direct access to the inside. A shoulder strap is attached to the interior for two-way use. There is an open pocket on the back for a cell phone.

The drawstring closure has a leather strap.

Width 13.5 cm, Height 21.5 cm, Depth 3 cm
MADE IN JAPAN